Journey Through Suicide Grief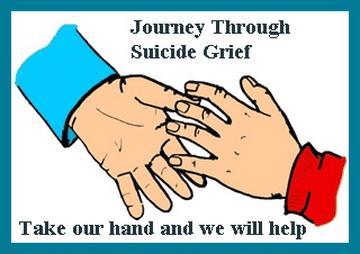 (c) 2002 JTSG Logo All Rights Reserved Logo was made especially for JTSG by Clips Ahoy.
Welcome to Journey Through Suicide Grief

Journey Through Suicide Grief is an online suicide support group made up of people who have lost loved ones to suicide.
For each of us our loss and pain is private and individual. But we do share the common grief that is the result of the self-inflicted death of someone we loved.
We have a heavy burden ...For not only must we resolve that grief of our loss, but we also grieve the choice that caused our loss. This choice makes our grieving different and very difficult... full of isolation, conflicts and complexities. We must work through and resolve these conflicts so we are not warped and crippled by this death...
There is no right or wrong way to grieve, but there are healthy and unhealthy ways. We, too, have a choice....
We can choose to grow bitter or to grow better.
We share pain in this group, but this sharing is not intended to re-open your healing wounds. It is intended to allow these wounds to be cleansed of anger, self-doubt, guilt and hostility toward others... cleansed in an atmosphere of understanding and acceptance.
We urge you to direct a great amount of energy toward resolving your self-doubts, toward accepting yourself as a person of worth with something of great value to share and that you listen attentively to that shared by others.
No one shall feel pressured to speak. While we encourage you to share and to express your pain, we recognize that some may not be ready. Bear in mind for many of us this is the first opportunity we have had to make a statement about the cause of this death without fear of judgment and censure. There is no judgment in this group ... only acceptance, understanding and love.
Take what you need, use it for yourself... for your strengthening, reinforcement and healing. Give only what you can ... try to find some comfort in the knowledge that you are not alone.... There are others who understand your anguish.
LaRita Archibald, HEARTBEAT/SAS, INC

There is a place in each of us that wants to heal, that can heal, that will heal. It's a peaceful place, one of nourishment , replenishment, peace, safety, comfort, and joy. It's a place of forgiveness, honesty, openness, nurturing, and kindness. You can find it quickly, if that's what you're seeking. You will recognize it instantly because of how it feels. It will bring you back to center. It will bring you back to calm. Find places of healing. Then go there often. They are yours for the asking, yours for the seeking. Healing places are an important part of the journey.
A daily meditation from the book "Journey to the Heart" by Melody Beattie
Journey Through Suicide Grief can offer you a caring support group, emotional support, chat (scheduled and as needed), understanding, helpful information and resources, compassion, a comfortable setting for sharing, friendship, hope, to listen without judgement, a safe and healing environment, lots of encouragement, and the knowledge that you are not alone. We will walk beside you and be there for you every step of the way.
Journey Through Suicide Grief can be beneficial to you by helping you verbalize your thoughts and emotions, connect with people who have suffered similar losses, deal with your feelings of anger and/or guilt, suggestions for coping, talking about problems without encountering rejection and being able to help others while helping yourself.